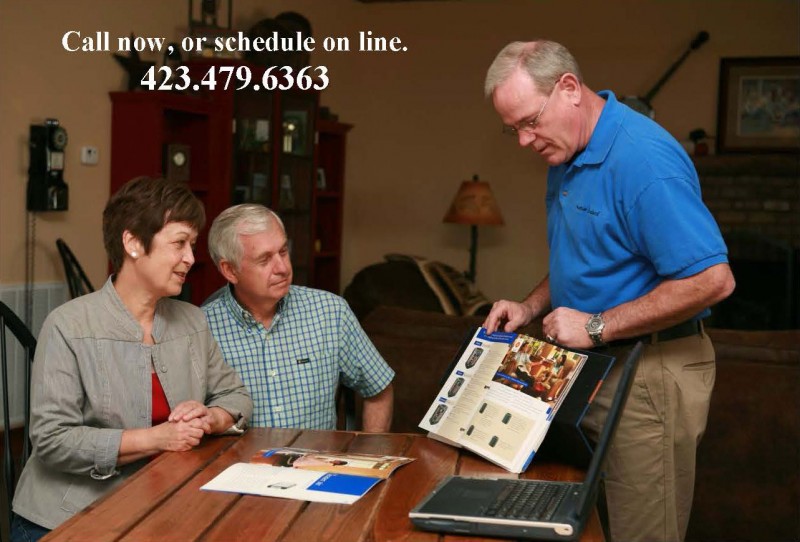 INSTALLATION & REPLACEMENT
Need HVAC, but aren't sure which direction to take? Springdale Heating & Air can walk you through the entire process, and equip you to make the best possible choice for your home or business.
STEP ONE: Request a FREE consultation and estimate
Springdale Heating & Air offers consultations and estimates for system installation or replacement in residential and light commercial applications at no cost or obligation to you.
Our sales staff will furnish a profile of various systems for comparison of price, efficiency, environmental footprint, and projected savings in energy costs.
STEP TWO: Determine what matters most to you
» New Construction
With all the things to consider when you're building a new home, don't discount the importance of HVAC. It's difficult to enjoy even the most beautiful environment when it's not a comfortable one.
New construction offers the perfect opportunity to examine issues of:
Energy Efficiency
Adequate Air Delivery to all Living Areas
Consistent Temperature Control Throughout the Home
Indoor Air Quality

Air Cleaning and/or Filtration

Humidity Control

Equipment Warranty
Maintenance
Springdale's design specialists take time to study blueprints and plans to insure that the mechanical systems we put in place will meet engineering requirements and provide optimum service for years to come.
» System Replacement
If your existing system is inefficient, has become increasingly problematic, or has stopped working altogether, the wise decision may be to replace it. Understandably, the cost of a new system will be a primary concern. Be sure your money goes as far as it can.
The Best Value
Springdale Heating & Air has been a Dealer for American Standard since 2007. Careful study of available brands, our own experience, and customer response have convinced us that American Standard is the industry's finest in central heating and air systems. In May 2012 and again in July 2014, the leading publication for results of consumer polls reported that American Standard was number one in all categories for HVAC equipment.
If you're looking for an alternative to a central system, Springdale Heating & Air is also a Diamond Contractor for installation of Mitsubishi ductless mini-split systems. In an application where a non-ducted system is needed or preferred, Mitsubishi offers energy efficiency second to none.
No Blind Spots
Springdale Heating & Air does more than toss out a quick quote for equipment. Protecting your investment means making certain that what's behind the scenes can sustain and optimize new system operation. Before giving an estimate, our sales representative will do a thorough on-site evaluation.
Electrical Service for the HVAC Equipment
Inappropriate or inadequate electrical service can cause equipment failure, and could pose a hazard to you and your home.
Can your panel supply sufficient amp draw and voltage?
Can the existing breakers safely power and support the new system?
We'll make sure.
Ductwork
Ductwork is a critical part of your home's respiratory system. Regardless the cost or quality of the equipment installed, it can't function efficiently or effectively if it can't breathe. Ductwork that is undersized, poorly configured, damaged, leaking, dirty or obstructed can significantly shorten the lifespan of your HVAC system. Whether existing ductwork is in an attic, basement or crawl space, we'll check it out – every time.
Equipment Size and Capacity
Springdale Heating & Air utilizes Wrightsoft Manual J 8th Edition to prepare a load calculation for your home or business. Manual J is the HVAC industry standard for precision in determining the equipment specifications and size (tonnage) necessary to meet your needs.
STEP THREE: Do business with people you can trust
Springdale Heating & Air is authorized by the State of Tennessee with License No. 00057653, and is licensed by county and municipal governments, as required by law. We adhere to current building codes, and exercise quality control with inspections by company management and by local code-enforcement officials following every installation.
Springdale Heating & Air maintains ACCA and NATE certification, and is an approved member of the TVA Quality Contractor Network (QCN). We have an A+ rating with the Better Business Bureau, and have earned status as a Customer Care Dealer for American Standard with a 99.42 customer satisfaction rating.
Springdale Heating & Air is grounded on the simple principle: "Do it for your customer the way you would do it for your mom." We honor that standard in every endeavor, with utmost respect for our customers, our coworkers, our business associates, and the greater family of our community.